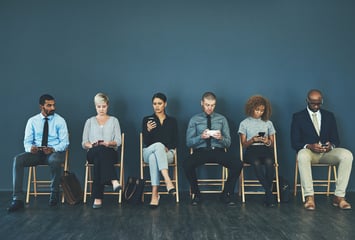 Once you reach the interview process of job applications, chances are you're up against several people with similar experience and education to you. So, what can you do to differentiate yourself? Here are some tips for standing out in a job interview.
GO BEYOND RESUME
An employer already knows what your resume looks like and they must have liked it since you received an interview. Use this time to share information that may not be included in your resume. Expand on your current experience can be beneficial to the job for which you're applying.
TELL STORIES
When answering questions, use an example that can be told as a brief narrative. Interviewers are more likely to remember a story than just a list of instances from your work history. For example, instead of just saying you have great at organization, tell a work-related story that shows off these skills.
RELAX BEFORE
Try to come to the interview as calm as possible. The more relaxed you are, the more genuine and confident you will come across. To help with your nerves, plan on arriving to your interview at least 10 minutes early. Check weather and traffic beforehand to avoid any unnecessary stress. Take a few deep breaths and give yourself a pep talk. You've got this.
HAVE QUESTIONS
At the end of the interview, you will most likely be asked if you have any questions.Take the time to craft a list of genuine, thoughtful questions that you have about the position and the company. If you are nervous about forgetting anything, bring a list as a reference just in case. If you have a question that was addressed during the interview, make sure you don't ask it again because it will make it seem like you weren't paying attention. Just a reminder that this is not the time to ask about vacation, benefits, etc. You will have an opportunity to find all of this out if you are offered the position.