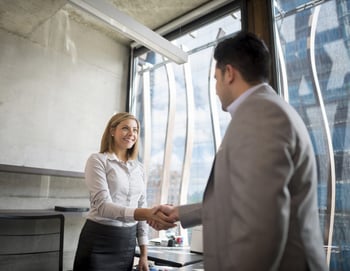 After sending out dozens of resumes, you've finally landed that coveted interview. You know the job description inside & out, have the perfect outfit, and a great list of questions to ask. At least you think they're great, but some of them may actually eliminate you as a candidate. Check out this list of what not to ask at a job interview.
HOW MUCH VACATION DO I GET?
Slow your roll. You don't even have the job yet and you're already asking to leave? Trust us, vacation time will be covered once you officially have the job. Don't ask questions about how the job can benefit you in the interview; show them how you are a benefit to their company.
WHAT DOES THIS COMPANY DO?
If you've done your research, you should already know the answer to this question. It's definitely okay to clarify or ask specific questions about tasks associated with the position you're interviewing for, but you should always know what the company does.
DO I NEED TO PASS A DRUG TEST?
This is a HUGE red flag to any employer, even if your intention for asking is completely innocent. Are you hiding something? Can they trust you? Again, this is something that will be covered in your training or orientation. If you have an extenuating circumstance, such as a long term medication that may affect any tests, bring this up after you're hired. There will usually be some type of HR protocol for you to follow.
DO YOU CHECK REFERENCES?
If they ask for references with your application, just assume they are going to check them. By asking this, it can make them wonder if you're lying about something in your application or that you may be trying to hide something in your work history. You should always give a heads up to your references before listing them so they're aware that a call might be coming.
WHEN CAN I GET PROMOTED?
We all want the opportunity to climb the corporate ladder, but this isn't the most tactful way to approach this topic. Instead, try asking if there is room for growth within the company. This can also show the employer that if you get the job, you are planning on sticking around for a while.
CAN I WORK FROM HOME?
Unless it was specified in the job listing that working from home is part of the job, it's best not to bring it up in the interview process. Let them see what kind of employee you are before you start making special requests such as working from home.
Most importantly, be confident. You've got this.