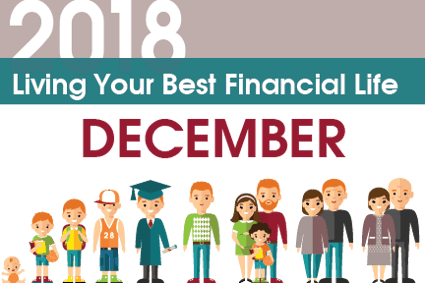 Throughout the year, we've been providing the financial steps that should be taken during each life stage to ensure that you are living your best financial life. Here is a quick wrap-up of the year. Click on the month to read more.
Add baby to insurance
Adjust beneficiaries
Open a college account
Childcare planning
Set goals
Earning money
Open a savings account
Open checking account
Start saving
Have a budget
Start building credit
Be responsible
Cover own expenses
Apply for aid
Student discounts
Always budget
Limit access
Build emergency savings
Use credit
Start retirement planning
Wedding planning
Have conversations
Budgeting
Start saving
Keep budgeting
Update information
Save for the future
SEPTEMBER (Married with Teens)
Start building credit
Be responsible
Start budgeting
Make mistakes
Set expectations
Check retirement
Adjust insurance
Time to downsize?
Watch contributions
Start paying down debt
Create budget
Plan Medicare