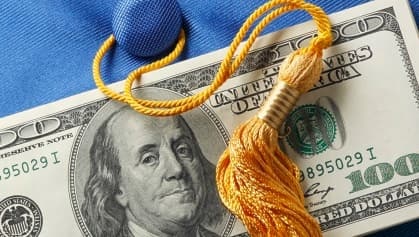 Higher education is a hefty expense for many Americans. Here are three things you can look into to help lower the cost of your schooling.
Employer Programs
Ask your employer if they offer any form of tuition reimbursement. Depending on where you work, this could potentially save you hundreds or even thousands of dollars in a year. Some employers may only reimburse you for classes that relate directly to your work in some way. For example, if you work in accounting, your employer may assist you with paying for classes having to do with finances. Other employers provide financial assistance for any class, regardless of whether it relates to your job or not. Also keep in mind that the amount your employer reimburses you could depend on the grade you receive in the class. For instance, they may pay the full cost of a course if you pass with an 'A' grade, but only a percentage of the cost if you pass with a 'C' grade.
Financial Aid
Apply for federal student aid through the Free Application for Federal Student Aid (FAFSA). FAFSA is a way to receive financial assistance from the federal government to help pay for your schooling. This can be provided in a few different ways. If you decide to apply for a student loan and are approved, you will be required to pay back the loan plus interest. If you receive a federal grant, you are generally not required to pay back the funds given to you (click here to be taken to studentaid.gov for more information on when you may be required to pay back part or all of a grant). Another option is known as work-study. This is a program that helps both graduates and undergraduates find work at schools so they can pay for their education through work. Some schools may not participate in this program. For more information on FAFSA, you can visit www.studentaid.gov (an official website of the United States government).
Summer Semester
Consider enrolling in summer classes. This option may not be popular for many college students. They understandably want to use their summer for vacation. Others use the summer to work and save money so they can go to school full time in the fall. If you're thinking about enrolling in summer semester, keep in mind that many schools have cheaper tuition during the summer. Choosing to take summer classes can also lower the total amount of time you're in school. This is because you'll be getting more schooling out of the way during a time many students take time off from school. Plus, summer semester is typically shorter than a traditional fall or spring semester. You may also benefit from having smaller classes during the summer than you would during the rest of the year.