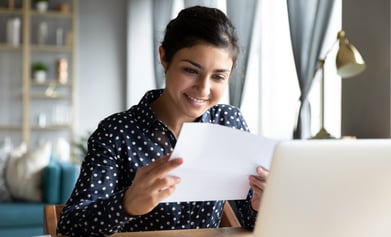 This month, we'll be highlighting three benefits of keeping an eye on your account history. Knowing what's going on in your bank account can not only protect your finances but also help you be better at saving money. Today, we'll briefly discuss how checking your account statements can help guard against fraud.
Fraud
Fraud could be happening right under your nose and you wouldn't even know it—unless you make it a point to check your banking history regularly. Take a look at your statements or transaction history periodically to make sure there isn't any unfamiliar or suspicious activity. Otherwise, you could be losing money without realizing until it's too late.
There are suspicious charges on my account. Now what?
If you believe there are fraudulent transactions on your account, reach out to your financial institution (FI) immediately. Depending on the timing and type of transactions, you may be able to stop the fraud in its tracks or recover lost funds. If you've become a target of check or ACH fraud, this means your account number has been compromised. In cases such as this, your FI may need to give you a new account number. If you're dealing with fraud on your debit or credit card, you will likely need a new card number.
What to Know About Getting a New Card Number
In the event that you're issued a new card number, some FIs have the ability to detect which transactions you previously set up to recur on your old card number. With this feature, you may not need to reach out to each of your creditors and provide them with your new card information.* Instead, your recurring payments will simply roll over onto your new card. Keep in mind, however, that fraudsters will sometimes set up illegitimate charges to recur, meaning a fraudulent charge could carry over to your new card along with the rest of your bills. While your FI should ideally catch this and prevent it from happening, that is not always the case. Even if you've been issued a new card number, it's a smart idea to keep an eye on your transaction history going forward. This will help you catch it should it ever happen to you.
*Ask your FI if their cards have this feature. If they do, be advised it is still possible that not all recurring charges may carry over to your new card automatically. You may still need to reach out to creditors to update your payment information.