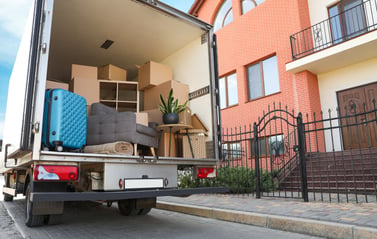 There's good news and bad news. The bad news is that moving scams are on the rise. These schemes target individuals or families who are moving to a new home and can result in excessive moving costs and damaged or missing property. In fact, the average loss claim resulting from a moving scam is $16,200 (FMCSA.dot.gov).
While there are a lot of great moving companies, there are some bad apples too. Some dishonest movers may take advantage of their clients by holding their possessions hostage on the truck until further payment is received, giving a too-good-to-be-true estimate and switching the price later, changing the name of the company so it's difficult to find bad online reviews, and more.
The good news is that there are steps you can take to find a reputable moving company. Check out the six tips we've provided below to get off on the right foot. While this list is not exhaustive, the Federal Motor Carrier Safety Administration (FMCSA) has great online resources that can help you prepare to move and protect you from moving scams. Visit ProtectYourMove.gov for more information.
6 Tips to Help Prevent Moving Scams
1. Do your homework. Make sure your mover has a current motor carrier or "MC" license. In Utah, movers are required to have an identification number from the U.S. Department of Transportation (known as a "USDOT number") and to be registered with the FMCSA. Ask the mover for their MC license number and USDOT number so you can make sure their company is in the FMCSA's database. This database also allows you to view a list of registered moving companies in your state along with any complaints against them. If you search for a specific mover and find that they either have a history of complaints or they aren't listed in the database, it's probably best to look for a different company. Additionally, check the Better Business Bureau, social media, and online reviews to see what others have to say about working with the mover.
2. Get everything in black and white. From the initial estimate to the final contract, get everything in writing. Getting a written estimate has two functions: (1) to help you to comparison shop movers and (2) to help prevent a mover from charging drastically more than the estimate later on. When it comes time to make a deal with a moving company, never sign a blank contract. Make sure you have a firm, detailed contract which includes the estimate, fees, and dates for pickup and delivery. Have this contract in place before moving day and understand the liabilities you may be responsible for. And don't forget to read the fine print!
3. Don't accept estimates over the phone. A reputable mover should always come to your home and give you an estimate in person. This helps them to get a good idea of what all needs to be moved and how much it will cost. Keep away from companies that try to give you a verbal estimate without seeing everything you'll be moving. They may be trying to lowball you before jacking up the price later.
4. Stay away from large, upfront deposits. In general, you should only pay up once the move has been completed and you can confirm everything went according to the contract. However, there are some moving companies that might require a deposit upfront, especially during the spring and summer months when demand for movers is higher. If you're required to make a deposit, it should typically not exceed a few hundred dollars. Anything higher puts you at risk of losing a bundle of money before you even know if the mover will help you in the first place. Whatever you do, never pay the full cost of the move upfront.
5. Pay with a credit card. Paying with a card creates a paper trail of your transactions with the moving company and makes it possible to dispute the charges if necessary. If possible, pay all of your moving costs with a credit card, including your deposit (if applicable). The one exception is if you'd like to give a cash tip to the movers.
6. Know your rights. According to the FMCSA, movers who are helping you move interstate "are required to give you the Your Rights and Responsibilities When You Move booklet and FMCSA's Ready to Move brochure to help you understand the documents that a mover will ask you to sign, and explains your rights if your household goods are lost or damaged" (FMCSA.dot.gov). If the moving company doesn't provide you with either of these, it's a red flag. View an online copy of these materials to ensure you know your rights.