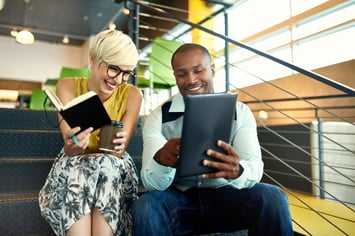 As a small business owner, the productivity of your employees and the experience of your customers may be two of your top priorities. Having a plan in place to improve and maintain the efficiency of your business will help you manage both of these. Here are some tips for making your business more efficient.
OPERATIONS AUDIT
The first thing you need to do is to complete an audit of your existing business practices in order to identify inefficiencies. Maybe there's technology within your workplace that holds people up or perhaps the 'way you've always done it' is no longer the most efficient method. Finding where the bottlenecks within your organization lie will allow you to fix the problem.
EMPOWER EMPLOYEES
If a manager is so busy doing everything that nothing gets done, this is going to affect your efficiency. Hire people you trust to do a job and then allow them to hire people they trust and delegate responsibilities. Employees should have complete ownership of the tasks assigned to them. Not only will this free up other people to do their own jobs, but your employees will feel like they play an important role in the organization.
UPDATE WEBSITE
Your website is one of the most effective advertising tools for your business. If it's difficult to navigate or doesn't appeal to potential customers, you might lose out on that business.Think about what kind of aspects you like in other websites and look for ways to incorporate those into your website.
BUSINESS PLAN
When you first started your business, you should have created a business plan. This is the blueprint for how your business is going to run, goals, objectives, growth, etc. Once your business is up and running, this doesn't mean your business plan can be cast aside. Continue to update it as your business evolves, but also keep in mind what you wanted to achieve when you first started out. Keeping clear goals & objectives and a plan to get there will help keep your business running smoothly and efficiently.