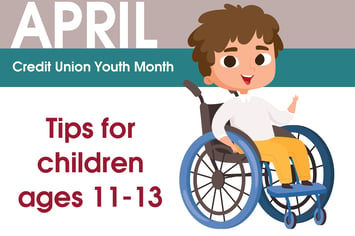 As we wrap up the final week of Credit Union Youth Month, make sure you check out Ages 2 - 4, Ages 5 - 7, and Ages 8 - 10. This week, we'll take a closer look at how you can teach important financial habits and skills to your children ages 11 to 13.
TAKE ON MORE RESPONSIBILITY
Once your child has a source of income, whether it's allowance or a job, have them be responsible for some of their expenses. Come up with a plan that dictates which items for which each side is responsible. For example, a parent could purchase a video game system as a gift, but the child is responsible for saving up and buying their own games.
HAVE HONEST CONVERSATIONS
You obviously don't want to overwhelm your kids with any financial issues you may be dealing with, but it's also a helpful lesson to be transparent. Maybe your child doesn't understand why their friend gets to go places or gets things that they don't. Talk about how everyone has different priorities when it comes to their spending choices and this is what your family does.
MAKE THEIR OWN GOALS
In the past, you may have made financial goals as a family. As your child gets older, encourage them to start making their own longer term money plans, such as saving for college. These goals will help your child determine what choices they should make when it comes to spending and saving their money.
OPEN A CHECKING ACCOUNT
Once your child starts receiving more money, it becomes even more important to make sure they have a safe place to keep it. Depending on your situation, it may also be a good time to get your teen a debit card that connects to their account. This is safer than carrying around cash and makes it easier to track their spending.
During the month of April, if you open a Dollar Dog Account, CD under a Dollar Dog, or Teen Checking, your child will receive $5 to open their account. Plus, they'll be entered to win a special prize pack where they can pick from: a Family Pass to Hogle Zoo, Family Pass to Loveland Aquarium, Family Pass to Thanksgiving Point, or a National Parks Pass. Click here to schedule an appointment at your nearest branch or contact us at 801-260-7600 to open an account for your child today.