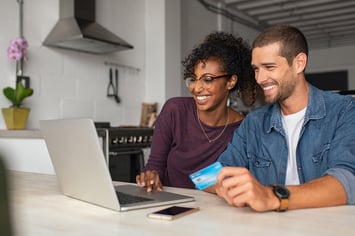 Once you legally change your name, you'll need to begin the process of changing the name on your credit cards in order to avoid issues down the line. While it can be a fairly straightforward process, you'll want to make sure you follow the steps in the right order so it's as seamless as possible. Here is how you can change the name that appears on your credit card.
SOCIAL SECURITY CARD
In order to change the name on your credit card, you'll need an official form of proof of your name. You can do this by changing the name on your social security card. In order to complete this, you will need proof of your name change, citizenship, and identity. You can request this change via mail or by visiting a social security office.
GOVERNMENT ISSUED IDS
You will also need to change the name that appears on your official government IDs. This includes your driver's license and passport. In Utah, you will need to go to the DMV in person and provide them proof, such as a marriage certificate, of your name change.
RESEARCH THE PROCESS
Once you have these two forms of ID, you can move onto your credit cards. Depending on who issued which card, the process can vary. The information for these processes can be found on the individual websites. While in many cases, the process takes place online, over the phone, or by mail, there may be cases where you'll need to handle it in-person. Once you've made these requests, you will begin receiving new cards. Destroy your old cards to protect your information and ensure they can't be used by anyone else.
CREDIT REPORT
Finally, you'll want to pull a credit report to make sure that these changes have gone through and that everything looks correct. You do not need to notify the credit bureaus when you change your name. This information will be provided to them from your lenders.