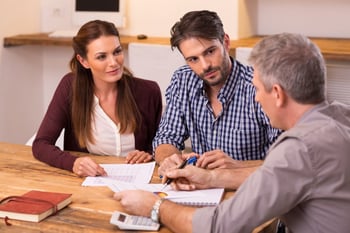 If your New Year's resolutions include paying off some of that debt that's been hanging around, loan consolidation may be an option for you.
WHAT IS LOAN CONSOLIDATION?
Consolidation is when you combine multiple balances into one loan from a single lender. You will be issued a loan that you can then use to pay off your other debts. There are many loan options available and we will help you find the option that works best for you. Often at a much lower rate, these loans have a fixed, monthly payment over a set period of time, usually two to five years.
HOW DO I PREPARE?
Make a list of all loans and credit card balances you currently carry. This list should also include how much you are paying per month for each debt and their interest rates. Your credit report is a great resource to find all of this information. You can access your report thorough annualcreditreport.com.
Place the debts with the highest interest rates at the top of your priority list if your loan isn't large enough to pay off all of your debts at once. The sooner these are paid, the more you will save in interest over time.
If you are concerned about your credit score, stop by a branch and talk to a financial service representative. As a credit union, we are able to help our members who may be in unique situations.
HOW DO I APPLY?
There are three ways that you can apply. The first one is in person at one of our branches. One of our financial service representatives will be more than happy to help start the process for you.
Second, you can use our online application tool. It's fast, easy, and secure. You'll receive an email notification or phone call when your loan is approved.
The Cyprus Lending Center is available 24 hours a day, 7 days a week. You'll speak directly to a member service representative who will input your loan and call you back when you're approved. You'll then complete the loan process at a branch near you. Call today, (801) 260-7600 option 4.