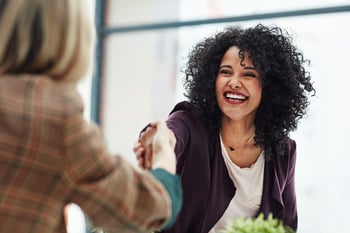 You've finally landed that coveted interview. Now what? Whether you're a teenager looking for a first job or an experienced professional, it can be a nerve wracking experience. Here are some of tips to help you get ready for your next big interview.
LEAVE EARLY
Even if you know exactly where your interview is, plan on leaving your house at least ten minutes earlier than you normally would. There may be unexpected traffic or an accident that slows you down. It's always better to arrive a little too early than show up late.
DRESS TO IMPRESS
Even if you know the culture is a little more relaxed (ex. Jeans) you should still dress up. It's better to be a tad bit overdressed then to be underdressed. You only get one chance to make a first impression, so make it count.
COME PREPARED
Have 5 or so copies of your resume available for those who might be part of the process. It may also be helpful to have a copy of the job description for you to reference throughout your interview. Remember to come ready with questions to ask at the end of the interview.
PRACTICE
Find a list of common interview questions and have a friend practice with you. Run through the questions multiple times and practice variations of answers. If you have a tendency to fidget when you're nervous, make a conscious effort to hold still. Clasp your hands together and either keep them on the table or in your lap. Ask the friend who's working with you to note any behavior on your part that may be distracting.