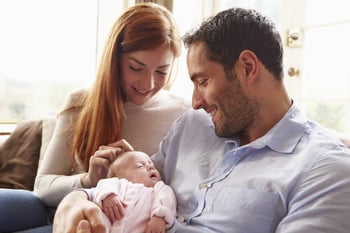 Congratulations on the new addition to your family! While you've probably already started planning for the crib, clothes, and toys there are a few more (less fun, but super important) steps that parents need to take before their bundle of joy arrives.
MATERNITY LEAVE PREP
Let your boss know about the pregnancy before your co-workers. You don't want it getting back to them through the office grapevine. There is no perfect time to inform your employer, but if it may start affecting your work (such a severe morning sickness or doctor appointments) sooner may be better. You will usually need some type of documentation from your doctor to confirm that you are pregnant and the due date. If your employer offers paid maternity leave, great! If not, you'll need to start planning how you are going to handle your finances during that 12 week period.
FIND A PEDIATRICIAN
Ask friends and family who their pediatrician is, talk to your OB, and conduct some research on your own. After compiling a list of names, set up a time to go in and talk to the doctor. Use this meeting to find out more about them and their practice. Make sure that any pediatricians you speak to are covered by your insurance. You don't want to fall in love with a doctor only to discover they aren't in your network.
START A COLLEGE FUND
In the state of Utah, you can start a 529 Plan, which is tax exempt and doesn't require a minimum balance, contribution requirement, or enrollment fee. You can also start a high interest savings account with Cyprus, such as a Dream CD. These accounts offer higher rates than a regular savings account and you can continually add to it until your child starts school.
SET UP A GUARDIANSHIP
After your child is born; you will need to draw up a will that establishes guardianship. Remember to talk to whomever you select before filing the paperwork, even if it seems like a given. Since the future can be unpredictable, it's safe to also name an alternate, just in case your first choice isn't able to care for your children.