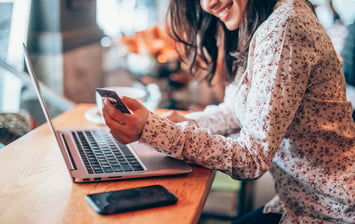 For many people, credit cards are a central part of their spending habits. While building a positive credit history and racking up rewards is great, you may want to exercise some caution when it comes to using your card for all of your spending needs. Here are 5 things that you shouldn't buy with a credit card.
THINGS YOU CAN'T AFFORD
Yes, this one is obvious, but it's also one of the most common reasons why people find themselves in a massive amount of credit card debt. Before making a major purchase, make sure you have a plan to pay it off. Some large purchases allow you to make interest free payments as long as you pay off your purchase in a certain amount of time. Make sure these payments are included in your monthly budget planning.
TAXES
You may think that paying your taxes with a credit card is a great plan, however, in many cases, you are charged a convenience fee for using a credit card which can amount to around 2% of what you owe. As an alternative, look into a short-term loan or set up a payment plan which help reduce your interest payments.
BUSINESS EXPENSES
Using personal credit cards to pay for business expenses can get you in trouble once tax seasons comes around. Most financial institutions, where you may already have your personal accounts, offer resources to business owners including credit cards. If you're just starting out with your business, look into small business loans or crowdfunding options
STOCKS AND INVESTMENTS
With such high risk, using credit cards for investments is a very bad idea. In fact, most brokers don't even allow a credit card as a form of payment. This may be a red flag that the broker you selected may not be a great option. Additionally, only having credit cards as an option may also be a sign that now is the not the right time for you to start investing.