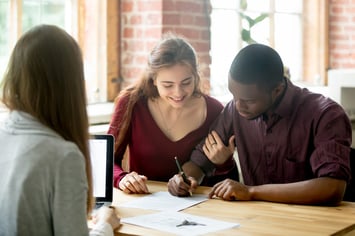 There is a lot of information out there regarding the process of purchasing of a new home. But what are some of the first things you should do after you buy a house? Here are some ideas to help you get started.
START EMERGENCY FUND
Once you own a home, things are bound to happen. Whether it's a broken air conditioner, leaky pipes, or flooring needing to replaces. By building up an emergency savings over time, you'll be better prepared when these unexpected expenses come up.
CHANGE ADDRESS
You'll need to let people know that your address is changing. File 'change of address' paperwork with your local post office. This can either be done online for a small fee or in person at the post office for free. Update your address within your accounts (bank, credit card, insurance, etc.) If you have a pet that's chipped, make sure you change that address too.
CHANGE KEYS & LOCKS
Unless you are the first person to live in a house, it's a good idea to change the locks. You have no way of knowing if someone out there has a copy of your house key or knows your garage code. You can either buy all new locks or hire a locksmith to come to your/take your existing locks to a hardware store and have them re-keyed.
STORE PAPERWORK
During the process of buying your home, you probably accumulated a lot of paperwork. Make copies of all of these and put them somewhere safe, such as a safe deposit box. Keep a copy in your home in a safe place that is easily accessible. It may be helpful to include these with your family binder and then store everything in a fireproof safe.
DEEP CLEAN
If you are able, it may be helpful to get into your new home to deep clean before you start moving furniture in. Start with areas that may be hard to reach once furniture is in place. Start at the top of the room and then work your way down to prevent cleaning up the same mess multiple times. Pay special attention to areas such as bathrooms, at-home gym, or swimming pool which may need special attention to get disinfected Ensure that the fridge at your new home is ready to go so you can move perishable food items right away.