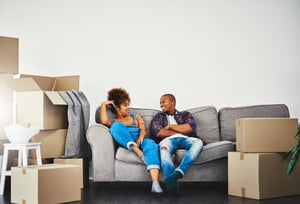 When talking about preparing to buy a home, we've often talked about the importance of saving up for a down payment. But do you really need one and why is 20% usually the magic number? Find out more by reading below.
WHAT IS A DOWN PAYMENT?
A down payment is the initial payment that you make when you purchase a home.
WHY DO I NEED ONE?
A home is likely to be the biggest purchase you will make in your life. As a result of this, you will need to be loaned the money in order to buy home.The more money you are able to put down upfront, the less your monthly payments will be.
For example, let's say you are purchasing a home that is worth $350,000. For a conventional 30 year mortgage, the minimum amount for a down payment is 5%. The interest rate on the mortgage is 4.375%.
With a down payment of 5% ($17,500), you are looking at a monthly mortgage of about $2,127. In addition to the actual principal and interest of mortgage, it also items such as private mortgage insurance (see below), insurance, and taxes.
With a down payment of 20% ($70,000) your monthly mortgage payment will total $1,654. This includes the principal & interest, taxes, and insurance.
WHAT ARE THE BENEFITS OF A 20% DOWN PAYMENT
When you are able to put 20% down on a home, you will not be required to pay private mortgage insurance (PMI). PMI protects the lender in the instance that a borrower defaults on their mortgage. Since your home is used as equity in the loan, your lender would want to get something back. In the example we showed above, not paying for PMI could save you over $200 a month.
If you do put down less than 20%, you will be required to pay for PMI until the equity (what you own) in your home reaches 20%.
How much of a down payment you have can often impact whether or not a homeowner will accept your offer during the buying process. If they receive a couple of offers and one couple has a down payment of 20% saved up and the other only has 5%, the first couple is more likely to be accepted.
A down payment may also help show potential lenders that you are responsible with your money.
If you need a little boost with your savings, try a Certificate from Cyprus Credit Union. A Certificate Account pays a higher interest rate than a regular savings account. The longer you invest your money, the higher the interest rate.­