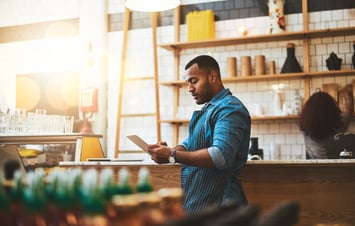 When you first start a business, you may find it convenient to conduct business using your already existing personal checking account. However, the faster your business grows, the more important a business checking account becomes. Here are some of the top reasons why you need a business checking account.
SEPARATING BUSINESS
Things can get messy if you mix your personal funds with your business funds, but this is especially true when it comes time to file your taxes of you find yourself in a lawsuit. If you use a personal account for handling business, it may put your personal assets at risk.
ACCEPT CHECKS
If you don't have a business checking account, you cannot accept checks that are made out to your business. This means, whenever someone has to write a check to your business, they will have to use your name. When this happens, it can make your business appears to be smaller than it really is or just flat out unprofessional.
GROWING BUSINESS
Your business growing is a great thing, but if you are still using your personal account and your business transactions are rapidly outnumbering personal transactions, it's time to make the switch. This will make it easier to track both of your accounts.
SELL BUSINESS
While the business is yours right now, there may be an opportunity in the future to sell your business. If you have your business transactions so intertwined with your personal account, it will become a nightmare. Having a business account will make the process of transferring those funds to the new owner relatively easy.
Cyprus Credit Union offers a variety of checking accounts so you can pick the one that best fits your business. For more information, check out our website or contact a member of our Business Services team at (801) 260-7600 ext. 5270 or businessservices@cypruscu.com.