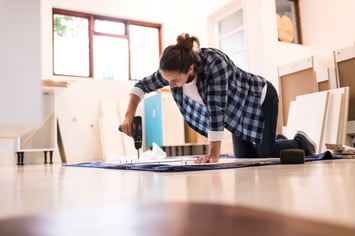 Planning a home remodel is a process, from the timeline to the budget to the actual design. While these may differ depending on the scale of project, there are some issues that are fairly common. Here are some of the things that you should expect during a remodel.
HIGHER BUDGET
No matter how well you plan or budget, there's always a chance your project could go overbudget. This could be because of a change in design, an unexpected issue, or additional fees. Before you begin any project, make a list of your wants and needs as this may affect how you need to allocate your budget.
MORE TIME
Even projects that have been planned for months or even years may run over schedule. This has been especially true over the past year with certain materials and supplies being limited due to the pandemic. Go into any project with the mindset it will run over schedule to help prepare yourself mentally and emotionally.
BIG MESS
Even a small project can result in your entire home being thrown into upheaval. Dust and other debris can be easily tracked through the house by you family and workers coming and going.
RANGE OF EMOTIONS
You're likely to experience a whole range of emotions as a homeowner when going through a remodel process. This can include excitement, stress, unease, indecisiveness, triumph, accomplished, and more. However, it's important to not let a temporary emotion dictate your long-term decisions, such a choosing cut costs on a project.