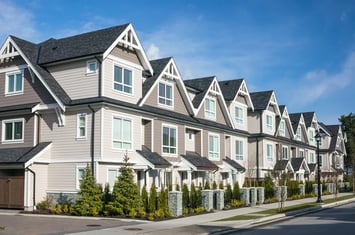 Many people choose to go the townhome/condo route for their first home due to the lower cost and maintenance when compared to a single-family home. Here are some of the differences between these two types of homes and what the pros and cons are of both.
WHAT IS A TOWNHOME?
In most cases, a townhome is community living where the houses line up in a row and share more than one wall. The owner will also have more ownership over their unit's exterior and interior, including the roof, driveway, and yard.
WHAT IS A CONDO?
Condos can come in many shapes and sizes, depending on where they are located. For example, they could be situated like an apartment building or in an individual setting. In most cases, the owner only owns the interior of their dwelling while the physical building, lawn, communal areas, etc. are owned by the home owner's association (HOA).
HOW DO COSTS COMPARE?
Generally, both townhomes and condos are less when compared to their single-family counterparts. When compared to each other, condos usually come out to costing less because the higher HOA fees may cover more maintenance. Townhomes may require more upkeep and end up costing more on that end.
HOW DOES RESALE VALUE COMPARE?
While condos have historically showed the slowest appreciation, that has changed in recent years. Just like a single-family home, the value of your resale greatly depends on several factors. For example, if your HOA includes property upkeep, that may be interesting to a buyer based on curb appeal and not having to do yardwork themselves.