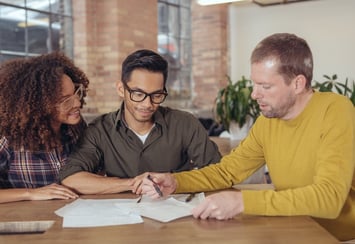 There's a lot that happens during the home buying process. One critical stage is underwriting. Here is a basic explanation of this process and what you can expect to happen.
WHAT IS MORTGAGE UNDERWRITING?
This is the process that a lender uses to determine whether or not a potential borrower may be at risk of defaulting on their loan. Some of the factors that an underwriter takes into consideration during this process is your credit history, the amount of debt you currently have, the appraisal of the home you are trying to buy, and more. This is the final process before the loan is denied or approved.
WHAT HAPPENS DURING UNDERWRITING?
Once you have completed the required documentation for your mortgage, you will submit them to your home loan advisor who will then send them to the underwriter. An appraisal of the property you are wishing to buy will also take place during the underwriting process.
The underwriter reviews your documents using a set of guidelines that have been determined by the lender. After review, they will come to a decision about your loan.
There are typically three decisions that an underwriter will come to:
Approved - Congratulations! The underwriter has approved your documents and you are ready to move onto the next step. In some cases, there may be some contingencies you need to meet before your loan is fully approved.
Denied – If you find yourself denied, find out why. It may be something as simple as another mortgage product may be a better fit for you.
Suspended – This means that the underwriter needs clarification about something in your documents. This isn't uncommon, so don't panic. Just get what they request back to them as quickly as possible so the process can continue.
On average, the underwriting process takes about three to five days to complete, but may take longer depending on the amount of loan applications that are being submitted and processed.
Cyprus Credit Union prides ourselves on being the mortgage option with the lowest fees and quickest keys. We have full control of our processing and underwriting process, making it quick and convenient for our members. On average, we can close loans in 20 to 30 days while others can take 45+. To experience the Cyprus difference, call (801) 260-7600 ext. 5340 and schedule a meeting with one of our experienced home loan advisors today.