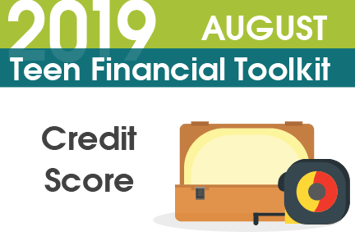 Last month, we learned more about credit cards, now we are going to take a closer look at credit scores.
WHAT IS A CREDIT SCORE?
A credit score is your entire credit history compiled into a three digit number. It can be anywhere from 300 to 850. The higher this score is, the better.
HOW CAN I START BUILDING A CREDIT SCORE?
Start using credit. As soon as you turn 16, you can be added as an authorized user onto your parent or guardian's account and then apply for your own card when you turn 18. Using credit responsibly and making on time, consistent payments will help build your credit score over time.
FOR WHAT IS A CREDIT SCORE USED?
The most common purpose of a credit score is to show lenders whether or not you may be a reliable borrower when you apply for loans and credit cards. Having a higher score may also give you better interest rates and term options. However, it can also be used in background checks for employment, apartment rentals, insurance coverage, and more.
I CAN'T OPEN A CARD RIGHT NOW. WHAT ELSE CAN I DO?
If you don't already, now is the time to open a checking and savings account. Learning how to manage money coming in and out of an account is great way to build up basic money management skills. You can also look into employment opportunities. Having a steady income source will make it easier when it comes to applying and being approved for your first card.