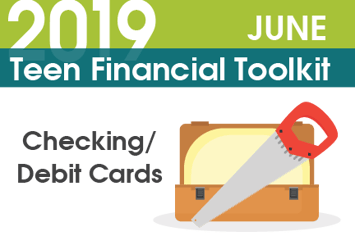 As you start to earn money as a teen, you'll need to find a way to both store your money and a responsible way to spend it. Here is some information about checking accounts and debit cards that's important to keep in mind.
CHECKING ACCOUNT
Once you start receiving money, this is a great time to open your first checking account. Not only will you earn interest on the money you have in there, but you'll have peace of mind knowing that your money is in a safe place.
If you are under the age of 18, you may need a parent or guardian sign on as a joint account holder.
Download your financial institution's app so you can always have access to your account information. This will allow you to check your balances, deposit checks, and ensure that your money is going where it needs to go.
DEBIT CARD
The first thing you should do once you receive your debit card is set up your personal identification number or PIN. This will help make your debit card more secure. It's extremely important to make sure that your debit card information stays confidential. If someone gets ahold of it, they can easily drain your bank account. So keep your card in a safe location and don't write down your PIN anywhere.
While a debit card is a better alternative than carrying around cash in some cases, there's still a level of caution that you need to take. You'll need to track your spending so you know exactly what funds are available to you. Spending cash you don't have may lead to overdraft fees costing you more money in the long run.
Be aware of fees that may come from ATM machines outside of your network. Cyprus Credit Union is part of the CO-OP ATM Network which allows you surcharge-free access to your money. Find one near you.