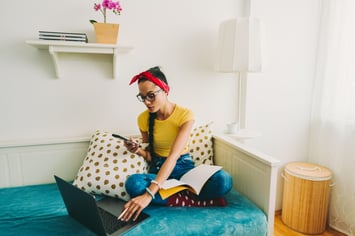 Every year, hundreds of thousands of students apply for some type of financial aid. Because of these numbers, there are fraudsters just waiting to take advantage of the situation. Here are some signs to look out for that you may be falling victim to a student loan scam.
FAFSA FORM FEES
Filling out a FAFSA form is free and easy. If you do need help, many organizations offer free assistance including the FAFSA website, the Federal Student Aid Information Center, and the financial aid office from the school you are thinking of or currently attending. If a company requires fees to fill out these forms, it's suggested you look elsewhere.
IMMEDIATE RELIEF
There are many options out there for legitimate public student loan relief. However, many of these options take time in order to qualify. If a company offers immediate relief in exchange for a fee, this may be a sign they are fraudulent.
PRIVATE INFORMATION
If a company reaches out over the phone or via email asking for confidential information, such as your social security number, this is not a normal practice. Most companies will use mail or secured messaging within their site to reach out to you.
PRESSURE PITCH
Choosing the best loan option for you can be a lengthy process. If you find yourself in a situation where pressure is being placed on you to make an immediate decision, it's probably best to search out other options. Many fraudsters use this approach that you need to make a decision quickly so that you won't have time to do your due diligence.
Keeping these signs in mind as you apply for financial aid will help save you from student loan scams that will cost you time and money.