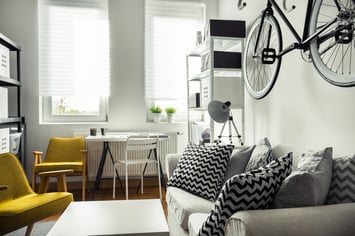 It can be difficult living in a space where you feel like you don't have room for everything. However, if moving to a bigger home isn't in the cards for you right now, there are steps you can take to maximize the space you currently have. Here are some storage ideas for small spaces.
CLEAN IT UP
The first thing you should do is take stock of the items you currently home. Are there duplicates? Is there something you haven't used in a while? Have those clothes you've been keeping your closet gone out of style? By only keeping what you truly need/want, it will help free up space and make organizing easier.
UNDER THE BED
Using items such as totes or baskets will help keep everything neat so you're not needing to shuffle around every time you need something. You can even look for bedroom furniture that is designed with smaller spaces in mind and has extra storage space included.
FURNITURE STORAGE
Finding pieces that can be used for multiple functions is a great way to create more storage space in a room. This could include an ottoman, a coffee table, benches, and more. This will allow you to keep items in a place that is easily accessible, such as stuffed animals in a living room, but can be out of sight if needed.
BACK OF DOOR
This type of storage can be utilized in basically any room of your house. Whether it's a bedroom, bathroom, kitchen, or closet, this is a great way to store smaller items that you use on a daily basis.
DRAWER & CABINET ORGANIZERS
Maximize the space you do have by keeping it as organized as possible. For drawers, buy dividers that will help you keep track of everything. For cabinets, buy shelving to take advantage of the vertical space available to you.