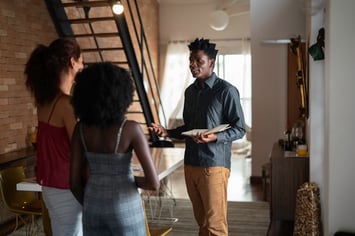 Becoming a homeowner is on many people's to-do list. But how do you know if you're ready to take that next step from renter to owner? Here are some signs that you may not be quite ready to buy a home.
NO EMERGENCY SAVINGS
Becoming a homeowner comes with a lot more financial responsibility than being a renter. Not having emergency savings in place means you won't be prepared when that unexpected expense, such as a broken air conditioner or leaky roof, happens. This will also allow you to not have to worry about making your mortgage payment if you find yourself without a job.
LITTLE OR NO DOWN PAYMENT
While there are options out there that don't necessarily require you to have a down payment, it may not be advisable for your personal financial situation. Ideally, you should have at least 20% of the home's value saved, anything less than this will require private mortgage insurance. This can end of costing more in the long run as you work to build at least 20% equity in your home.
NEED MORE FLEXIBILITY
While the housing market is doing great right now, you never know what the future holds. If you see yourself possibly moving in the near future, it may not be advisable to buy a home at this time. Selling your home may take longer than you anticipated and you may not have may enough to equity to outweigh what you paid in closing costs.
LOW CREDIT SCORE
The amount of interest you will receive on your mortgage, or even being approved for a loan in general, is dependent on your credit score. It is advisable that you have a score of at least 620 before buying a home. If yours is less than that, click HERE for tips on how to raise it.
TOO MUCH DEBT
If you're already dealing with a lot of debt, it's probably not a great idea to add a mortgage on top of that. Generally, no more than 30% of your gross pay should be going towards your mortgage payment. Before buying, focus on some your higher interest rates debts and pay down those.