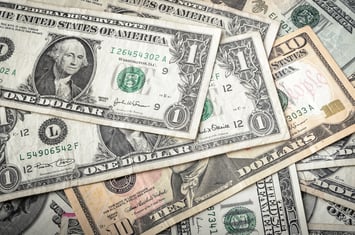 One popular method of budgeting is the cash budget. This type of budget is exactly how it sounds; you only use cash to make purchases as opposed to credit cards. However, as with any type of budgeting, there are advantages and disadvantages. Here are some of the pros and cons of a cash budget.
PROS
PREVENT OVERSPENDING
You can only use what you have when you're using a cash only budget. This means, once your money is gone, it's gone. For some people, they say this helps them prevent overspending and gives them a better perspective on how they are using their money.
ACCEPTED ALMOST EVERYWHERE
While retailers may only accept certain credit card or charge fees depending on the type of card you use, cash is almost universally accepted.
NO ADDITIONAL COSTS
When using cash to make purchases, you don't have to worry about missing payments, late fees, or paying interest.
CONS
EASY TO STEAL
Unlike credit cards, if your money is stolen, there's little chance that those funds will be returned to you. Money is one of the easiest things to steal because it's not easily tracked. Additionally, if your debit card or account information is stolen, someone could drain your account. You will need to show extra precaution when using cash only.
HARD TO TRACK
While a credit card automatically creates a record of where it's being used, cash doesn't. You'll need to keep your own records of how your funds are being spent. If you diligently follow your budget, you should be able to account where every single dime of your paycheck needs to go in order to cover your expenses.
EMERGENCY EXPENSES
Unless you have an emergency savings account, an unexpected expense may throw your budget into upheaval.