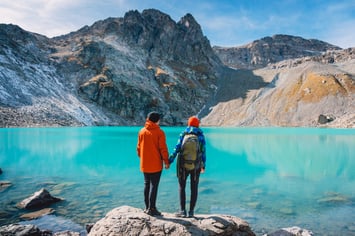 Planning a romantic getaway doesn't have to break the bank. Here are some tips for planning an affordable honeymoon.
START PLANNING
Honeymoon planning should be happening concurrently with wedding planning. Come up with a list of possible options that include a variation of places to visit, accommodations, transportation, etc. Once you have a list of ideas, start pricing them out.
CREATE A BUDGET
Once you know where you want to go, start creating a budget. This should include your transportation, accommodations, food, and activities. Track flights to find the best deals and consider alternative airport options. Use websites to blind-book hotels and rental cars at lower rates. If you are going out of the country, don't forget to take items such as fees or exchange rates into consideration when you are creating your budget.
LESS BUSY TIMES
It may be less expensive to travel in the middle of the week as opposed to over a weekend. You may also want to look into late night, early morning, or red-eye flights which may help save you some money. Also, look into destinations where it may be their 'off-season'. Not all amenities may be available to you, but it's likely to cost a little less and will feature less crowds.
DELAY PLANS
There's no rule that says a honeymoon has to immediately follow your wedding. If traveling right after you say 'I Do' isn't an option, plan something for the future. Spend this time planning and saving money to ensure that your trip is as amazing as possible. Additionally, being more flexible with your travel dates may save you even more money down the line.