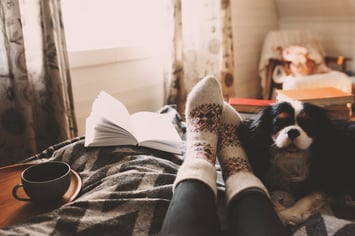 During the holidays, we can get caught up in everyone and everything around us, we can forget to take care of ourselves. As we approach the new year, making it a goal to take better care of yourself can help improve many aspects of your life. Here are some ways that you can start investing in yourself.
IMPROVE CONFIDENCE
The more confidence you have in yourself and your abilities the more likely you are to experience success. If you are constantly doubting your value and feeling like you're not enough, no amount of outside praise or validation is going to fill that void.
DEVELOP NEW SKILLS
Depending on where you are in your life, these skills may be for professional advancement or for your personal life. If you are looking to a promotion, a seminar or workshop may help teach you a new skill that will give you an edge over the competition. Or you could pick up a new hobby, such as painting, which may help you relieve stress and improve your creativity.
MORE SELF-CARE
Everyone has their own idea of what self-care means. For some, it may be some pampering and for others, it may be taking a nice, long nap. Try to find methods of self-care that won't bust your budget. For example, some people use having a bad day as an excuse for some retail therapy. Instead, try curling up with a favorite book or doing some meditation.
SAVE FOR THE FUTURE
One of the best ways to invest in yourself is investing in your future.This means creating emergency funds, saving for retirement, and paying yourself first. Additionally, parents need to ensure that any assistance they may be providing to their adult children isn't hindering their own savings.