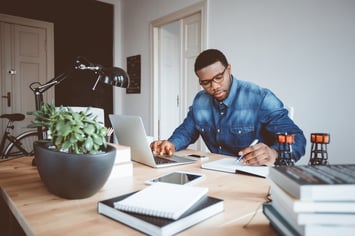 You have finally graduated and now it's time to face your student debt. Like with any debt, blindly making payments isn't going to get you very far. Here are some tips to help you tackle your student debt.
COME UP WITH A GAME PLAN
Once you finish school, it can be tempting to ignore your student loans as long as you possibly can. However, the sooner you sit down and make a plan, the better. Find out exactly what you owe and where you owe it to. If you aren't quite sure where your loans might be from, order a copy of your credit report so you can see where you owe money. You can also check the National Student Loan Data System which will be able to locate federal loans. Creating your plan is a great thing to do during your grace period, if you have one.
HAVE A BUDGET
Just like any other expense, paying off student loans should be included in your budget planning. If necessary, make other cuts so you are able to put as much as you can afford toward paying them off. If you aren't able to make payments, don't just ignore them. This will end up costing you more in fees and interest over time. Apply for a temporary deferment until you are able to get back on your feet.
DEDUCT INTEREST
You can save a little money by deducting your student loan interest on your taxes. In order to be eligible for this deduction, you cannot be making more than $80,000 ($160,000 for a couple if you're filing jointly). The loans must have also come from qualified lender. This means, if you were loaned money from a family member, you can't deduct interest on these payments.
As everyone's situation is different, you should talk to a tax professional to see if this deduction would be a good fit for you.
EARN EXTRA CASH
If possible, try and find other methods of making money. This could be providing a service (such as teaching kids to play the piano), driving Uber or Lyft, or taking online surveys. These are usually tasks that can be scheduled around your work schedule, but still leave you flexible enough to do other things. You might also be able to get extra shifts at your job or find an additional part time job.