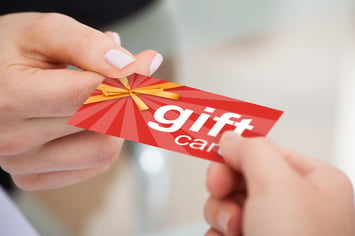 Whether it's gift from during the holidays or something you found while cleaning the house, finding a gift card you won't use can leave you in a predicament. Here are some ways to get rid of your unwanted gift cards.
SELL THEM
There are websites where you may be able to sell your gift cards for cash. Make sure you use a reputable website as that will help ensure you don't become the victim of fraud. You may also be able to use these websites to exchange your card for another type of gift card.
DONATE THEM
Many charities accept donations of gift cards that are then used to purchase supplies, given to those in need, or used in raffles during fundraisers. Depending on where you donate them, they may be tax detectible.
REGIFT THEM
Having gift cards on hand is a great last-minute gift if you find yourself in need of one. Just make sure to take note of any expiration dates so you don't give someone a gift card that doesn't work.
BUY AND SELL
As a last case resort, you can use the gift card to buy an item and then resell that item online. This will leave you with cash that you can now use however you want.