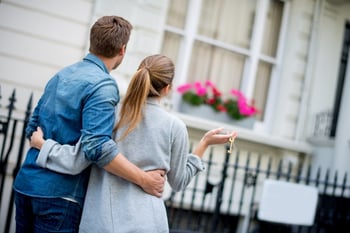 Cyprus Credit Union offers a wide range of mortgage options to assist our members when it comes to buying a home. Whether you're a first time buyer or a seasoned real estate investor, there's bound to be a product that fits your needs. Here is a quick overview of just some of the mortgage options that we offer.
CONVENTIONAL LOANS
Traditional loans with either a fixed or adjustable rate with set terms and guidelines. Usually requires a 20% down payment or mortgage insurance.
Who: Most home buyers
FHA LOANS
A loan similar to a conventional mortgage, but with less strict requirements. Insured by the Federal Housing Administration meaning a down payment can be as little as 3.5%. Mortgage insurance is required.
Who: First time home buyers & those who meet income requirements
VA LOANS
Loans that are guaranteed by the US Department of Veteran Affairs to help service members purchase homes. Down payments are not always needed and lower credit scores are permissible. Mortgage insurance is not required.
Who: Eligible veterans (6 months of active duty or 6 years of reserve) and spouses of deceased active service members.
USDA LOANS
Loans guaranteed by the U.S. Department of Agriculture that require little to no down payment. Borrower must meet income requirements and occupy the property as their primary residence. Mortgage insurance is required.
Who: Rural area home buyers
JUMBO LOANS
Most conventional mortgages are capped at $453,100 and jumbo loans are able to exceed that. These loans are ideal for people who have a low debt-to-income ratio, higher credit score, and a larger down payment.
Who: High priced or luxury home buyers.
CONSTRUCTION LOANS
A customized construction loan program with complete financing. A person can be approved for both their construction and mortgage loan in one easy step.
Who: People who want to build their own home.
SHORT & SWEET LOANS
Pay off your current mortgage faster and reduce interest payments. Requires no appraisal and offers a fixed closing fee of $250, a significant savings over the costs & fees of a traditional 30 year loan. Max loan amount of $250,000.
Who: Current home owners who want to pay off their loan faster.
100% Purchase Program
This loan option is 100% funded by Cyprus Credit Union. There are no income requirements or area limitations and no down payment is required. Depending on the loan amount, there may be mortgage insurance.
Who: First time home buyers or those who have not owned a home in the last three years.
If you still aren't quite sure which product will work best for you, schedule an appointment with one of our home loan advisors. They will sit down with you and help you select the product that best fits your needs.