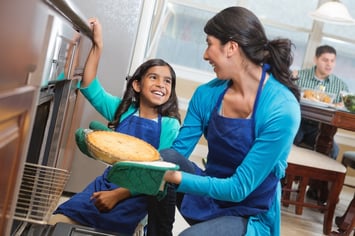 While you can't predict everything, knowing about how long you need to wait before replacing your appliances can help you plan your long term budget. This can also help you decide if it's better to have the item repaired or replaced entirely. Additionally, when building a home, you can use this as guide to see what will help you save more money in the long-term.
According to a National Association of Home Builders study, you can expect your household appliances to last about the following amount of time:
Dishwasher – 9 Years
Refrigerator – 13 Years
Electric Range – 13 Years
Gas Range – 15 Years
Garbage Disposal – 12 Years
Washing Machine – 10 Years
Dryer – 13 Years
Central Air Conditioner – 15 Years
Electric Water Heater – 11 Years
Gas Water Heater – 10 Years
Tankless Water Heater – 20+ Years
Electric Boiler – 13 Years
Gas Boiler – 21 Years
Thermostat – 35 Years
It's important to remember that these numbers are just estimates. Depending on how you treat and care for your appliance, it may differ from the average.
If you need to do some fixing up around the house, a home equity line of credit is a great option. Similar to a credit card, you borrow money as you need it, using the equity in your home. These loans usually feature lower variable interest rates compared to traditional loans. If you are interested in learning more about HELOCs, check out our website or contact a home loan advisor at 801-260-7600 ext. 5340.