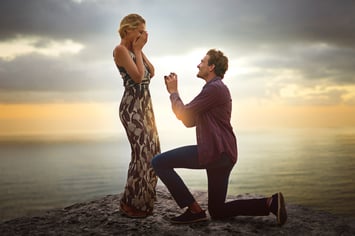 Making the decision to spend your life with someone is an exciting one. However, before picking out wedding gifts and bridesmaids dresses, it's important to sit down and have a serious, transparent conversation about money. Here are some of the topics that you and your partner should discuss before tying the knot.
HOW MUCH DEBT DO YOU HAVE?
This can be a difficult conversation, especially if you've slipped and made some financial mistakes. However, putting all your debt on the table prior to getting married will allow you time to plan a course of action with your partner. Debt can impact some long-term goals down the line. So the sooner you are able to pay off those debts, the better.
WILL WE COMBINE FINANCES?
While many married couples combine their finances and open joint checking accounts, this method doesn't necessarily work for everyone. If both people have their own source of income, they may want to keep their own accounts in addition to a shared account to pay joint finances.
WHAT'S ON YOUR CREDIT REPORT?
A credit report is a detailed record of your financial history. In addition to your debts, it also shows any bankruptcies, liens, foreclosures, etc. Having poor credit can impact your ability to purchase a home, being approved for lines of credit, and more.
HOW WILL WE HANDLE FUTURE ISSUES?
While it's impossible to predict the future, already having a plan in place for common occurrences may save you stress down the line. For example, if one person needs to transfer for their job, how will you handle that? How many kids do we both want? Will we help pay tuition for future children? Will someone be a stay at home parent? What will we do if a family member needs financial assistance?
WHAT IS OUR SPENDING LIMIT?
While most purchases shouldn't need to be discussed, especially if you have a joint budget. However, setting a limit on what you can spend without needing to talk about it may prevent arguments about overspending in the future.