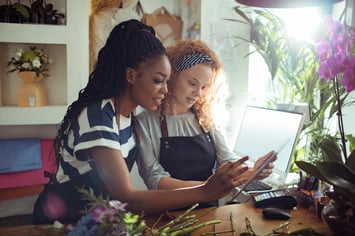 A Facebook page is a great, inexpensive way to promote the goods and/or services that your business provides. Here are some tips to help you create a great page.
CREATE BUSINESS PAGE
The very first step you need to take is creating a business page. There are several features available for business pages that you may be missing out on if you are using a personal page. This includes content creation tools, ad promotion, and analytic tools. You also may lose out on potential business as you would need to be added as a friend in order to access the page.
CHOOSE PROFILE PICTURES
Selecting the right profile picture will help you be recognized in the sea of a Facebook feed. This could be your logo if you're a bigger company or a picture of yourself if you are self-employed. The recommended dimensions for this are at least 170 x 170. For your cover photo, select something that encompasses your business. This can be rotated in and out regularly to represent special offers or deals. The recommended dimensions for your banner are 820 x 462.
ADD INFORMATION
Add all relevant information about your business that you would want customers/potential customers to know. This includes your location, website, contact email, hours, prices, etc. Add a short bio to the 'About' section to quickly introduce who you are and what you do to your audience.
ASSIGN ROLES
Depending on the size of your company, you may have many people accessing your Facebook account. There are different roles a person can have on a Facebook team: Admin (control of everything), Editor (can edit page and send messages), Moderator (can respond to comments), Advertiser (can create ads), and Analyst (can view page insights). Assigning these roles can ensure who has access to do what on your page.