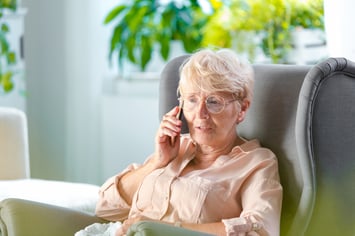 Chances are you've seen an uptick in the amount of robocalls you receive in any given day. While they may be annoying and disruptive, they can also be dangerous if you're not prepared. Here are some common robocalling scams and how you protect yourself from them.
TECH SUPPORT SCAMS
You receive a call from a customer service rep saying there's a problem with your account or a virus on your computer. In order to fix this problem, you need to make a payment to the website. This payment is either completing by wiring money, sending a gift card, or using a payment app. By using these methods, the payments are hard to track and may not be able to be recovered. Remember that legitimate tech companies don't use phone, email, or text messages to contact you.
SOCIAL SECURITY SCAMS
With this scam, you'll receive a call to inform you that a suspicious activity has taken place and that it involves your social security number. As a result of this activity, a warrant has been issued for your arrest or your social security number has been blocked and the only way to fix it is wiring money from you account to another. Keep in mind that your social security number cannot be blocked and no government agency will ever ask you to wire money as a payment. If you do have concern about your social security number being compromised, reach out to the office directly.
BANKING SCAMS
Most financial institutions don't call or text you asking for or about your personal account information. This includes your checking/savings account numbers or debit card information. If you do receive a call noting an issue with your account, hang up and call your financial institution back directly using the number on their website to make sure that everything is okay.
LOTTERY SCAMS
Some scammers go the opposite route of scaring you and try to entice you with a prize or lottery winnings. If a prize requires a fee in order to claim it or you're asked for personal information in order to enter a contest, this is probably a scam. If you know you haven't entered anything and receive a call that you won something, just hang up.
In most cases, it's best to just ignore calls from numbers that you don't recognize. If you do answer a robocall, hang up without saying anything. If you haven't already, add your number to the national 'Do Not Call' Registry. Legitimate telemarketers usually follow this list which increases the odds that the calls you do receive are from scammers. You can add yourself to this list by calling 1-888-382-1222 or visiting donotcall.gov.