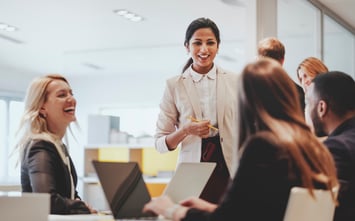 Before you can start the hiring process or assigning tasks, you need to create an organizational structure for your business. This will determine who is responsible for what and who reports to whom. Here are some tips on how to develop an organizational structure.
START BRAINSTORMING
The first thing you'll need to do is organize positions by department. Use the business plan you have written to determine what you are going to need. Here are some main areas which you should take into consideration:
Administration
Finance/Accounting
Operations
Marketing/Sales
CHOOSE TYPE
There are several different types of structures from which you can choose to use for your business. Three of the most common include:
Hierarchical: The most common type of organization structure, this chart starts with the C-Suite and works its way down. Employees are usually grouped by the department and level in which they work. Usually used by mid-size and larger companies.
Flat: This type of structure has little to no middle managers in between the staff and executive levels. This adds an extra level of responsibility to employees and makes the decision-making process more streamlined. Usually used by small businesses and start-ups.
Matrix: Instead of being organized by department, employees are organized by project or teams. It's more open concept where employees may report to multiple people depending on the project on which they are working.
LEAVE OPEN FOR GROWTH
As your business grows and expands, so will your organizational chart. Leave room for growth with additional leadership and employment opportunities. If employees can see chances to advance within the organization, they are more likely to stick around.
SHARE IT
Once your organization chart is set and your company is up and running, make sure this chart is accessible to everyone in the company. Include all employees and not just the senior management team. Keep it updated when roles/personnel changes take place so everyone in the company is on the same page.