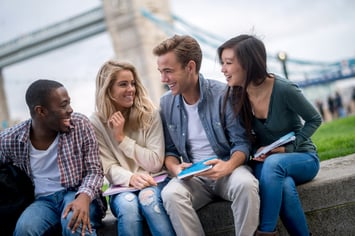 Every year, thousands of US students spend time studying abroad. While it's a great experience, it can also become fairly expensive. Here are some of the expenses so you can start saving and planning your budget and ways that you can save money while studying abroad.
GO OFF THE BEATEN PATH
When it comes to study abroad, the more popular a location is, the more expensive it is likely to be. By picking a less traveled spot, you may be able to save some money while still having a great experience abroad.
NO TRANSACTION FEES
Many credit cards charge you extra when using your card outside of the country. These fees can quickly pile up if you're in another country for months at a time. Before leaving, do your research and find a card that doesn't have foreign transactions fees.
TAKE ADVANTAGE OF SCHOLARSHIPS
Just like in the states, there are millions of dollars in scholarships, grants, and fellowships available out there. A simple google search can help you find funds that are applicable towards the school you are attending or what you are studying.
HEALTHCARE COSTS
Whether you have your own insurance plan or you are still on your parent's, it may not cover you while you are in another country. Even if the healthcare is free, that usually only applies to citizens who pay the costs in their taxes. It's important to make sure you are taken care of if anything happens to you as this can help save you hundreds or even thousands of dollars.