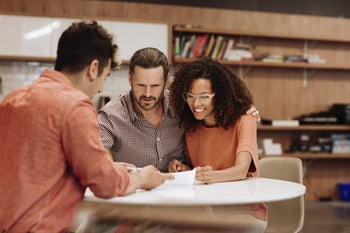 Cyprus Credit Union offers a wide range of products to assist our members when it comes to buying a home. With some of the lowest rates and fees in the industry and our professional loan officers helping you every step of the way, Cyprus is a great choice for all of your mortgage needs. Whether you're a first time home buyer or a seasoned real estate investor, there's bound to be an option for you. Here is a list of some of our most popular loan products:
10 TO 30 YEAR FIXED RATE
This type of mortgage features a fixed interest rate throughout the entire term of the loan. This means that the monthly loan payment will not change, regardless of the market's interest rate adjusting. These loans usually have larger initial payments than compared to those with a variable rate mortgage.
VARIABLE RATE MORTGAGE
With a variable rate mortgage, the interest rate adjusts periodically. Monthly principal and interest payments change according to a predetermined schedule throughout the life of the loan. These usually have a lower interest rate than a fixed rate mortgage for the first few years which can lead to significant savings. After the introductory period ends, the rate will change depending on the market interest rate change.
FHA LOANS
Federal Housing Administration loans are the most common mortgage programs used by first time buyers. This allows a buyer to put as little as 3.5% down on the home. FHA also allows for limited credit, lower credit scores, and non-occupant co-borrowers. This loan can also allow the seller to pay most of the buyer's loans closing costs.
VA LOANS
A Veteran Affairs loan is designed to offer long-term financing to eligible active military members and veterans. In order to qualify, a person must have been on active duty for 6 months, reserve or National Guard for 6 years, or the spouse of an active military member who died on duty. The loans are guaranteed by the US Department of Veterans Affairs and therefore do not require mortgage insurance. This type of loan does not always require a down payment and a lower credit score is needed.
INVESTMENT PROPERTY LOANS
With as many properties that are currently available on the market, now is a great time for real estate investors to add to their portfolios. Cyprus offers extremely competitive rates and programs to help experienced members invest in real estate. These loans can be used for office spaces, rental properties, and homes to flip and sell.
REVERSE MORTGAGES
For homeowners aged 62 years or older, reverse mortgages can be a great financial tool to help eliminate financial concerns during retirement. The proceeds from this program can be used for home improvements, ongoing medical or living expenses, or any other needs of the borrower. There is no monthly payment and the house remains in the borrower's name.
UTAH HOUSING
Utah Housing is a program sponsored by the state of Utah that allows certain borrowers to obtain a low, fixed-rate loan with no money out of pocket. There are specific income, credit, and eligibility requirements to qualify for this program and it is specifically designed for first time home buyers.
REFINANCE MORTGAGE
A loan officer will take a look at a your current mortgage to see if they can get you a lower rate, consolidate debt, or get cash-out for home-improvement or investments.
SHORT & SWEET MORTGAGE
Our short and sweet mortgage loans require no appraisal and offer a fixed closing fee of $250, a significant savings over the costs and fees of a traditional 30 year loan. The mortgage is held in-house at Cyprus Credit Union which ensures quick loan closing, easy account and payment access at any branch, by phone, or online through home banking. Max loan amount of $150,000
JUMBO LOANS
This type of loan is to purchase a high-priced or luxury home. Most conventional mortgages are capped at $417,000 and a jumbo loan can exceed this limit. These are for people with a lower debt-to-income ratio, a higher credit score, and a larger down payment.
CONSTRUCTION LOANS
Cyprus can help you build the home of your dreams with our customized construction loan program. With complete financing, you can be approved for both your construction and mortgage loan in one easy process.
2nd MORTGAGE
A fixed rate 2nd mortgage is great for projects when you know exactly how much money you will need. You will receive funds in one lump sum, as a 2nd lien, with the comfort of knowing your rate will remain the same for the duration of your loan.
HELOC
A home equity line of credit (or HELOC) is different from a second mortgage. Instead of receiving the approved sum up front, you can borrow the money as you need it. Like a credit card, you can continually borrow money on a revolving account, typically as a 2nd lien.
PORTFOLIO
'Outside the box' lending options for those who may have had trouble qualifying for traditional loans in the past. Lenders are more willing to take on higher risk applicants because they can look at the borrower's whole financial situation.
We here at Cyprus Credit Union are your mortgage partner. Our team of highly specialized, professional loan officers will take a look at your financial situation, help you find the product that works best for you, and then be there to assist you every step of the way. For more information and our current rates, you can check out our website & mortgage center or call (801) 260-7700.