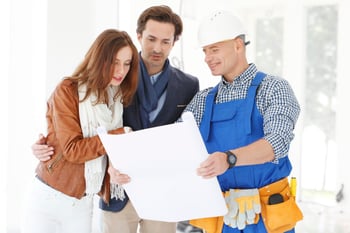 So you've finally decided to take the leap and redo your kitchen, add that new bedroom, or spruce up the house with some new siding. Where do you start? If you aren't a 'Do It Yourself-er,' you'll probably want to start with a contractor. This is the person you will work most closely with during the renovation process, so it's important to hire someone you trust and know will be able to do the job. Here are some steps to take throughout the hiring process.
ASK FRIENDS AND FAMILY
If someone you know recently had some renovations done to their home, ask who they used. You can even go and take look at the work first hand and check out the quality for yourself. Once you have a list of potential contractors, contact them by phone with a short list of questions. Such as, what is their estimate, how many other jobs would they have at the same time and a list of former clients.
IN-PERSON INTERVIEW
Once you have your initial list narrowed down, conduct an in person interview. Some of examples of important questions to ask include:
How long have you been in business? Are you licensed and what is your number?

Is your work guaranteed? Is there a home warranty?

Do you have a list of subcontractors I could contact?

How do you handle the permit process?

What is your payment schedule?
Before making any final hires and signing contracts, check out the Better Business Bureau or another official review source for any potential red flags.
COME PREPARED
You should find out what permits and regulations are required for your project beforehand. While your contractor or architect is most likely to apply for and acquire all permits, you need to know what's going on behind the scenes.
BE HONEST
When talking to contractors, be upfront about what you can afford for the project. If necessary, you can even split a project into stages, but let the contractor know what the plan is. Don't allow yourself to be pressured into something you can't afford.
At the end of the day, remember that you get what you pay for. If something seems too good to be true, it probably is. You don't want to spend more fixing something then you would have in the first place if you hired a better contractor.
If you need a little extra cash for some renovations, a home equity line of credit (HELOC) is a great option. If you would like to learn more about HELOCs, you can check out our website or call one of our mortgage advisors at (801) 260-7600 ext. 5340.