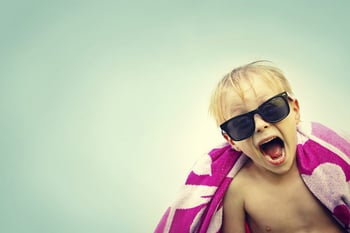 The snow is melting, flowers are blooming, and birds are singing. That can only mean one thing, spring is finally here! After a long winter, you and are family are probably looking forward to spending more time outside and, of course, taking that long awaited spring break vacation. But before you leave on your adventure, check out some ways to save a little money as you travel.
SET A BUDGET - AND STICK TO IT
This is probably one of the hardest parts of a vacation. It's easy to sit at your kitchen table and decide how much to spend, it's another when you're actually on your trip and you encounter an unexpected expense. Budget in a little extra money in case of an emergency (or if you just can't resist that souvenir bracelet). If you don't use it, put it into your savings account when you return home from your trip as a little reward for staying on budget while on vacation.
LOCATION. LOCATION. LOCATION.
If you're looking for a vacation on the cheaper side, avoid touristy areas that raise prices (and are extra crowded) during the spring break holidays. Some popular Spring Break destinations that you may want to avoid include South Beach, Florida; Lake Havasu City, Arizona; and Las Vegas, Nevada. South of the border, be wary of Cancun, Puerto Vallarta, Cabo San Lucas, and Acapulco. Chances are, with a little research, you'll be able to find a similar destination minus the crowds.
SHOP AROUND
Once you decide where you are going and what your budget is, begin comparing accommodations to find the best price. If going the hotel route, decide what amenities you need and compare prices of hotels in the area. After booking a room, check back a few times a week leading up to the trip to see if the price has dropped. If it has, rebook at that lower price if you are able to. Or, instead of a hotel, check websites like Air BnB or VRBO to see if there are houses or apartments you can rent near your destination. The nice thing about renting is that you usually will have more room and access to a kitchen so you can save a little money from not having to go out to eat for every meal.
TIME IT RIGHT
Airline prices and traffic are higher when you leave on the weekend, especially during the spring break months when more people are trying to get out of town. Try to time your trip so you can leave in the middle of the week. According to the Huffington Post, the best time to purchase airline tickets is 54 days before your departure date. The best overall window to purchase tickets is 104 to 29 days before take-off. In this window, tickets usually linger within $10 of their lowest price.
LIMIT SOUVENIRS
Souvenirs are a great way to remind you of all of the fun you've had on vacation, but you don't want to go overboard and end up paying for overweight bags. Before you leave, let your kids know they will only be able to pick one thing each. When your child decides they want something, especially early in the trip, reiterate that it is the only thing they will be able to get and stick to it. For added responsibility, have your child do some extra chores around the house leading up the vacation to earn some money to spend on their own souvenirs. Not only will this help teach them a little extra financial accountability but they may show a little more thought in their selection because it's THEIR money. If possible, have them purchase their souvenirs using cash so they can see once it's gone.