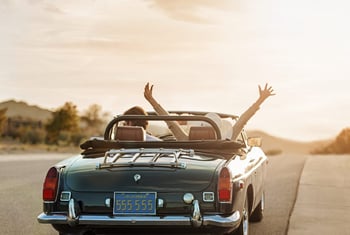 We're about at the half point of summer, but there's still plenty of time to take that much needed vacation and road trips are a great way to experience the world on your own schedule. Obviously you'll be bringing along some great music and a lot of food, but here are a few other items that can help make your trip as smooth as possible.
TOILETRIES
Bring along wet wipes, paper towels, hand sanitizer, and toilet paper. You never know what you are going to encounter at those rest stops so it's best to be prepared for anything. Also, you'll want to stay as clean and fresh as possible for those long stretches on the road.
FIRST AID KITS
A basic first aid kit is something that you should always have in the trunk of your car, just in case. Some items that should be included in your kit include medication (ibuprofen, aspirin, allergy medication, etc.), Band-Aids, gauze, anti-septic towelettes, antibiotic ointment, tweezers, safety pins, thermometer, and latex gloves. A sealable freezer bag is a great way to store these items that doesn't take up much room.
POWER INVERTER
A power inverter converts the DC power in your vehicle to AC, transforming your vehicle's power socket into an outlet so you charge small electronic items like smart phones, tablets, laptops, DVD players, or handheld gaming systems.
CAMERA
Getting there is half the fun and you don't want to miss out on capturing a memory because your camera is packed away somewhere.
MOTION SICKNESS CURES
Even the most experienced traveler can experience motions sickness from time to time, and you certainly don't want it to hit while you're in the middle of nowhere. Dramamine is available over the counter and is available for kids and in 'Less Drowsy' formula. If you want to go the natural route, you can try powdered ginger capsules. Talk to your doctor if you suffer from chronic motion sickness.
CAR EMERGENCY KIT
You don't want to get side tracked with car problems, so come prepared. Make sure you have a spare tire and you know how to change it. Have a spare copy of your key in case something happens to the original so you don't get stranded (or have to pay for a locksmith or expensive copy). If you are able to, have some type of road side assistance membership so if something major happens, you are able to get help quickly.
Extended financing terms and competitive rates make it easy for you to spend your leisure time in style. Cyprus Credit Union's low-rates and flexible terms give you the freedom to enjoy your new recreational vehicles wherever the road takes you. You can apply online or ask for Cyprus financing at the dealership.