S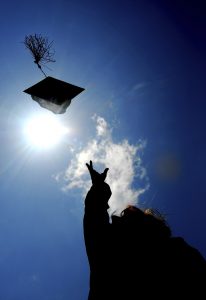 everal realities settle in following college graduation; a real 9-5 job, no more summer vacation, building credit, and, probably the most disheartening, your student debt. It was easy to ignore them while you were still in school but now you need a plan to start paying for them.
START WITH HIGH INTEREST DEBT
With any major debt in life, start with those with the highest interest rates and work your way down. This will help save money in interest fees throughout the term of the loans. Also take into account loans that have variable interest rates that may get higher over time.
PAY MORE THAN THE MINIMUM (IF YOU CAN)
Paying a little extra month, even just a few dollars, can help reduce the amount of interest you pay overtime and shorten the length of your loan. If you receive a raise at work, try to factor at least 50% of that into your loan payments. Applying any tax refunds you may receive is also a great way to pay a little extra
TRIM YOUR BUDGET
Look for expenses that you can eliminate from your monthly budget to put toward your loan payments instead. Only eating out a couple of times a month, canceling cable television, and finding a less expensive cell phone plan are all great ways to save money. This isn't a forever situation, just until you get your loans to a manageable point. You can even switch up your budget on a month by month basis depending on your needs.
MAKE MULTIPLE MONTHLY PAYMENTS
For some people, it may be easier to take a small chunk out of each paycheck as opposed to paying a large sum each month. Making a payment every other week equals 26 payments in a calendar year, which means you can make a whole extra month worth of payments helping to pay off your loans quicker.
LOOK FOR DISCOUNTS AND DEDUCTIONS
Many services offer a small discount if you enroll into automatic payments. Automatic payments will also eliminate the chance of any late or missed payments resulting in late fees or lower credit score. When you are paying off student loans, you are also eligible for the student loan interest deduction on your federal taxes. You may deduct up to $2,500 on your taxes every year that you are paying off student loans.