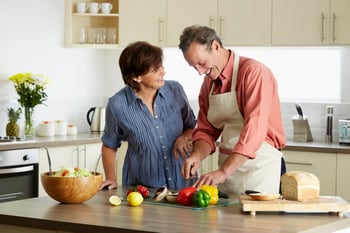 Welcome to your 50's. You're oh so close to that long awaited retirement date, but that doesn't mean you can become complacent. There's still a lot you need to accomplish before you enter the next stage of your life.
TAKE ADVANTAGE OF CATCH-UP
Once you reach the age of 50, you can add additional contributions to your 401(k) that can add up to $6,000. It's also very important to remember that your 401k is off limits when those larger expenses hit, such as a child's marriage or tuition payment.
RE-EVALUATE ASSETS AND INVESTMENTS
It was easier to take risks a couple of decades ago because you had more time to recover. However, now is the time to take a look at your portfolio and start moving towards more conservative investment options. If you need help through this process, contact an investment professional.
RAMP UP SAVINGS
Your retirement account isn't the only savings you should be focused on. These are your peak earning years, so your savings should reflect this. Make it a goal to save at least 15% of your annual income. Also, any bonuses, raises, or commissions should also be set aside for the future.
FOCUS ON ELIMINATING DEBT
You don't want to worry about putting your retirement fund towards paying off debt, so make that the priority during this time in your life. Start with debts that have the highest interest rate and will cost you more over time. If you are considering refinancing, our short and sweet mortgage is a great option for current homeowners. These loans require no appraisal and offer a fixed closing fee of $250. Call one of our Mortgage Specialists to find out more.
For information on saving for retirement in your 40's click HERE.