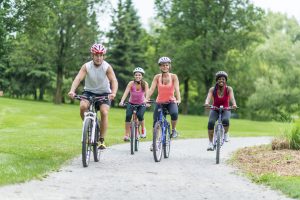 With the weather finally beginning to warm up, chances are, you'll be spending more time outside. One great way to take advantage of the sunshine is to start biking.
Unlike running and other forms of cardio, biking is a low-impact exercise that won't put strain on your joints. If you're just getting started with working out or have a limited range of motion, biking is a great option.
Because it's such a low-impact form of exercise, almost anyone can do it. You can start weekly family bike rides that even the littlest members can be a part of by either riding their own bike or being towed behind an adult.
The most expensive part of biking for a beginner is the bike itself. Unless you are planning on taking this hobby very seriously, there is no need to spend thousands of dollars on a bicycle. There are hundreds of very basic bikes that will get the job done for a reasonable price.
Once you begin biking and build up your stamina, take advantage of local spinning classes so you can keep up the habit even when inclement weather prevents outdoor bicycling.