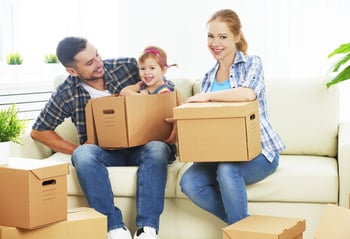 You've sold your house and are ready to make the big move to your new home. Where do you even begin to start when packing up your entire life? We have listed 5 tips below that will hopefully make the transition to your new home smooth sailing.
Before you start packing, take inventory of all of your belongings. Are there clothes you don't wear anymore? Furniture that has outlived its time or won't fit in your new house? Appliances that don't work? Don't pay to have these moved to your new home only to be put in storage or thrown away. Categorize everything into sell, donate, throw away, and keep and then act accordingly. This will help lighten your moving load and, potentially, earn you a little extra money.

Some items in your house can't simply be thrown into a box and moved. Do a little research on how to move some bigger ticket items such as plasma TVs, washer & dryer, refrigerators, artwork, and china. Materials to pack these items may have to be special ordered if they aren't provided by your movers.
If possible, put heavier items in smaller boxes and lighter items in bigger boxes. Boxes that are both large AND heavy are usually more difficult to maneuver through hallways and stairwells. Also, make sure your boxes are packed tightly to reduce the likelihood of something breaking. You can use towels, paper towels, or packing paper to fill in the cracks.
Come up with a consistent system to mark your moving boxes. Write what room they belong in, how many boxes go in that room, and a description of what's inside. This will help eliminate any surprises during unpacking and control some of the chaos. It also helps to make a checklist for yourself so you can make sure that everything gets moved from your old home to the truck and finally, to your new home.
Leading up to your move, keep your grocery shopping to a minimum. Plan meals using ingredients you already have sitting around your house. This will not only help save you money leading up to the move, but decrease the amount of stuff you'll need to ship to the new house. A lot of professional moving companies are actually prohibited by law from transporting certain types of perishable food, so check with them so you don't end up throwing away a ton of food.