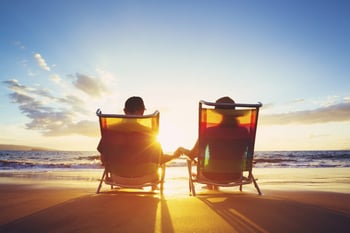 Summer is here and it's time for a vacation. Part of any well planned trip should include what forms of payment you will use and how much cash you will bring. Here are some tips to help keep you money safe while traveling.
CLEAN OUT YOUR WALLET
Take out any unnecessary cards or other identifying items and leave them home. Typically, all you will need on vacation is a universal credit card (a card that can be used everywhere), a just in case back-up card, an insurance card, and your identification. If you normally carry around your social security card, leave it at home. The more you leave behind, the less you have to replace if something happens to your wallet.
USE CREDIT CARDS OR CASH
If your credit card is stolen, you can call and have it canceled immediately and not have to worry about the charges. However, if your debit card is stolen and your bank account is cleared out, it can potentially take several weeks to fix everything and you won't have access to that cash on your trip. Make sure you are familiar with the money wherever you are going and set a budget for each day so you won't need to carry large amounts of cash around with you.
NOTIFY YOUR DEBT AND CREDIT COMPANIES
The last thing you want while on vacation is a frozen card because of suspected fraud and then having to spend your vacation time fixing it. Let your card issuers know where you will be traveling and how long you'll be gone so using your account from a new location doesn't raise any red flags. Ask if there are any foreign transaction fees associated with your card.
SECURE VALUABLES
Don't leave items, such as your wallet or cash, sitting around in plain sight in your hotel room during the day. Always place them in your room safe or ask the front desk if there is a safe deposit box that guests can use. Just remember to grab your stuff before you check out. If you have a tendency to be forgetful, set a reminder on your phone or leave a note by your suitcase.
PROTECT YOUR CASH
When you're carrying cash, don't keep it all in your wallet. Take advantage of items such as money pouches, multiple pockets, shoes, etc. Be alert when walking in crowds of people or on public transportation as these are ideal opportunities for pickpockets. Before taking any amount of cash with you, ask yourself how you would feel if something were to happen to it. If you would be absolutely devastated, it's probably too much.
Finally, a good habit to get into is to check your bank and credit card statements once you get home to make sure all of your purchases are legitimate. If you see anything out of the ordinary, contact your financial institution and/or credit card company immediately.
To report a stolen VISA card, call Cyprus at (801) 260-7600 or (800) 929-7787 during regular business hours. For after hours, contact (800) 682-6075 or log on to www.reportmycards.com.