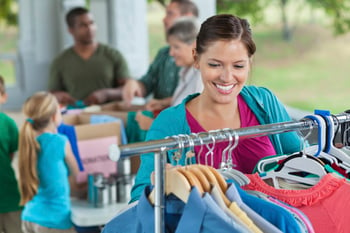 Summer is the prime time to clean out some junk, have a garage sale, and make a little money. If you've never had a garage sale before, or are just looking for a few tips to make yours even better, look no further.
PERMIT PLANNING
Before planning anything, research your city's rules and ordinances about yard sales. This also includes how you are able to advertise your sale. Some cities ban the use of signs on poles and street signs, which is something you'll want to be aware of to avoid any fines.
PRICE EACH ITEM
If you have several items that are priced the same, make sure they are still each individually marked. This can be as simple as piece of masking tape and a sharpie. If you toss several identical priced things into a marked box, it can be difficult to keep track of where things go as the sale progresses.
CREATE AMBIANCE
Play some easy listening music during your garage sale. This helps eliminate the awkward silence if just a few people are shopping on their own and can create a sense of privacy if people are shopping together and are discussing the products.
GENERATE FLOW
Set your items up in a way that is logical. Put all kitchen items together, all living room items together, etc. The better organized your garage sale is, the easier that customers will be able to find what they are looking for. There should also be a nice physical flow. Make sure tables and items are spaced out enough that there is room for people to walk by when others are stopped to look at items.
START WITH CHANGE
Be sure you have plenty of change right off the bat. You don't want to have to send the first few customers away because you aren't able to make change. Stop by your financial institution and take out about $150 in 50's, 20's, 10's, 5's, and, most importantly, 1's. Also, start collecting change leading up to the sale to have on hand. Remember to put the money back into your account once the sale is over.