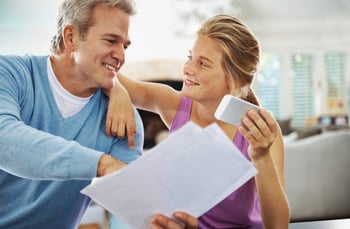 Those high school years may feel like forever to your teenager, but they'll be getting ready to leave the nest and set out on their next adventure before you know it. Are they ready to take their finances into their own hands? Here are some things that you can do to help make their transition to financially responsible adult as smooth as possible.
OPEN A SAVINGS AND CHECKING ACCOUNT
If they don't have one already, take your teen to your local financial institution and open an account for them. Teach them about the differences between a regular savings account, money market, and certificate of deposits.
START BUILDING CREDIT
Cyprus Credit Union offers a Student VISA card to our members who are under 18 years old. With low rates, account alerts, and a 25-day grace period on purchases, it's a great way to establish credit at a young age. In order to qualify, the applicant will need a qualified co-maker (usually a parent or guardian) over the age of 21.
LEAD BY EXAMPLE
Now that your child is older, you can start involving them more in your budgeting process. Show them how you prioritize between wants and needs and the importance of saving. While you don't need to put numbers on anything, it's important to show them expenses they may not even be aware of that they'll be responsible for one day.
START NOW
While you'll still be taking care of the majority of the needs, such as food, water, and shelter, have your teen start saving and budgeting for the extras while they are still living at home. For example, you'll cover the car insurance, but they are responsible for the gas.