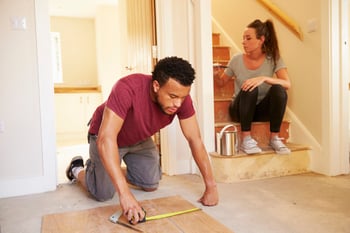 You're thinking about moving but you know your home needs a little work before it goes on the market. The one problem? There isn't enough time and money to do everything, so you have to pick and choose what will get you the most money back. Here is a list of some of the best improvement projects that can help boost the value of your home.
FRONT YARD
Curb appeal is everything. If the outside of the house is a mess, why would anyone want to look at the inside? It also shows to any potential buyers that you take pride in your home and take care of it. Your landscaping doesn't have to be over the top and hard to maintain, just keep it basic and accentuate what makes your home great.
BATHROOM
Make sure the plumbing in your home is running correctly and has been fixed if there are any problems. All of the fixtures should be up to date and coordinated. To save money, keep the layout the same and compromise where you can when buying new fixtures. For example, if you want the more expensive sink, then go with the more basic toilet and shower.
KITCHEN
The kitchen is the most valuable room in a house. Meaning if you only have the time or funds for one major remodel before selling, make it the kitchen. If you're not sure how much to spend on the kitchen, a good guideline is about 15% of the home's value.
SIDING AND ROOF
New siding can give your home that extra 'oomph' when it comes to curb appeal. Knowing that the siding and roof is new is HUGE to potential buyers because they know they don't have to worry about replacing either for a while.
PAINTING
Probably the easiest (and least expensive) fix on our list, but it can make a world of difference. A simple coat of paint can make a room seem cleaner, larger, or even brighter. This doesn't mean you have to paint the whole house white, in fact, this can actually turn off potential buyers. Instead, opt for muted tones of different colors. Greys, tans, and creams are great for living areas and bedrooms while pale greens and blues are ideal for bathrooms.
If you need a little extra cash for some renovations, a home equity line of credit (HELOC) is a great option. This is where a person borrows against their home in small increments, similar to a credit card, only paying interest on what they use. If you would like to learn more about HELOCs, you can check out our website or call one of our mortgage advisors at (801) 260-7600 ext. 5340.