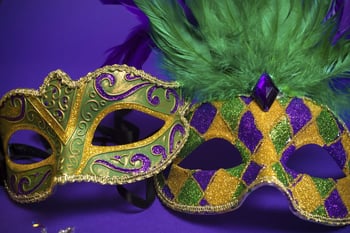 Mardi Gras is the prelude to Lent, which is the 40 days of penance between Ash Wednesday and Easter. Traditionally, this day would be spent gorging on all of the meat, eggs, milk and cheese that remained in the house before fasting. In fact, the name Mardi Gras directly translates to 'Fat Tuesday.'
No Mardi Gras Celebration is complete without food, so here are a few staples to help you get started.
Back in the day, Monday was the considered "wash day" of the week. So women in New Orleans would put a pot of Red Beans & Rice on the stove, using the previous night's hambone as seasoning, to simmer throughout the day so they could get the washing for their family done. Today, Red Beans & Rice is a popular choice any day of the week, but especially at Mardi Gras.
Gumbo is a central feature of the Cajun celebration of Mardi Gras. Gumbo has been around as early as 1885 and comes in three popular styles; seafood, poultry and sausage, and a meatless version made with greens. This is a great meal to help you warm up on a cold February evening.
Cinnamon filled dough in the shape of a hollow circle, King Cake uses traditional Mardi Gras colored sprinkles which all have a symbolic meaning. Purple signifies "Justice", green stands for "Faith", and gold represents "Power." This cake sometimes features a small plastic baby inside or underneath the cake and whoever gets the piece with the baby has various privileges and obligations, depending on tradition.
Sources: Southern Living & History.com