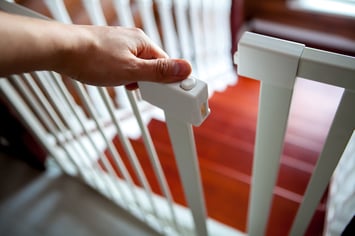 If you have children, or are planning to, baby proofing is an important task every parent needs to complete. Taking the steps now to prevent injuries and mishaps now can help save you stress, heartache, and money in the future. Here are some tips for babyproofing your home.
TURN DOWN WATER HEATER
One of the more common injuries with small children are scalding burns as a result of playing with the shower knobs while in the bath. This risk can be lessened simply by making sure that your water heater is set to less than 120 degrees fahrenheit.
CLOSE OFF BATHROOM
One of the most dangerous places in a house for small kids to be alone is the bathroom. Even just a few inches of water in the bathtub can put them at risk of drowning. They also run the risk of getting into something they shouldn't, such as cleaning products, hygiene items, and medications. Keep the door shut & locked at all times and keep cupboards locked as an extra precaution.
BABY GATES
When a baby start showing signs they're about to become mobile; ex rolling, it's time to put up gates at the tops of stairs and closing doors to areas you don't want them to access. Gates should be installed at the top and bottom of every stairwell. The gates at the top of the stairs should be mounted so the weight of the child isn't enough to push it out of place.
SECURE FURNITURE
Pieces of furniture that aren't properly secured can become risk to small kids. One way they are at risk is is by using something heavy to pull themselves up that ends up toppling on top of them. Most furniture will include pieces that will allow you to anchor pieces to the wall. Not only will this help keep your kids safe, it can also prevent additional damage if an earthquake occurs.